Poker Table Shipping Information
How long til I receive my order?
All our poker tables ship out of our Pittsburg, CA warehouse. The closer you live to us, the faster you'll receive your order. See the map below for a general idea: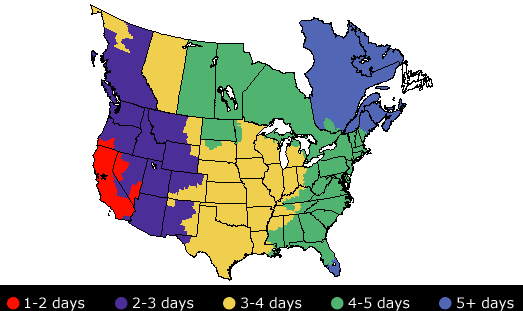 Keep in mind that these days are only counted as business days, so your shipment does not move on weekends. Also, while these estimates are accurate 95% of the time, the freight companies can not account for unexpected weather or high volume delays.
Can you expedite my order?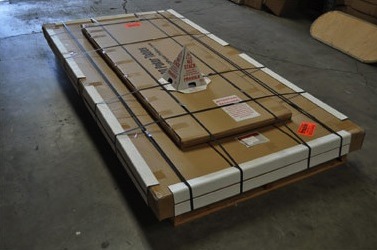 Because all of our tables are hand crated to custom sized pallets for safest possible transit, all our tables ship for free via freight trucks. Your table gets loaded onto one of these trucks and must be driven to your destination. This means there is no expedited service (technically there is air freight, but the costs involved are guaranteed to be more than the cost of the table) so if you have a deadline you need the table by, whether for an event or gift, be sure to order as early as possible and we'll help you best coordinate the ship and delivery date.
I'll be out of town next week, can you hold my shipment?
If you won't be around to receive your table on the estimated delivery date, please let us know ASAP so we do not ship out your order until you are ready to receive it. We can hold your shipment here and coordinate the appropriate ship date to coincide with a day you can take off or be home to receive the shipment. Remember we ship all our in stock tables within 1 business day so if you need to push your shipment back a few days, weeks or even months, let us know immediately and we can have it taken care of. Once the shipment leaves our warehouse, the freight company will either deliver the shipment or send it back to us if they are unable to perform a delivery. If you are not present for your scheduled delivery and cannot reschedule a new delivery within a few days, the order gets sent back to us and you may be subject to additional reshipping charges.
Contact BBO Poker Tables
We can be reached by phone Mon-Fri 8:30AM to 5PM PST or 24 hours a day through email at:
Info@BBOPokerTables.com
(877)841-9301
BBO Poker Tables Headquarters
970 Garcia Ave Suite I
Pittsburg, Ca 94565
Today, you can find BBO Poker Tables at many of your favorite website retailers. View our entire list of dealers!