CHOOSE YOUR PERFECT POKER TABLE!
So you're tired of playing on a dinner table or table topper and are ready to take the plunge into owning your very own poker table.
You go online and what seemed like an easy pick and choose product has become quite the daunting task with the array of sizes, styles, colors, materials and uses. We're going to help narrow down the playing field by comparing the two fundamental table styles. When starting your search for a poker table, you'll come across two basic types: you have poker tables with folding legs (usually metal) and furniture poker tables with permanent pedestal legs (usually wood). We'll explain the core differences between these two styles and by the end, you should know which type of table suits you best.
The first difference is function. You have to think about how you are going to use your poker table. Remember, this is a large piece of furniture that 8-10 of your buddies will be sitting around. So you need to determine how much space you have available and whether that space is available temporarily for poker night or can you dedicate the space to play poker any time you please. Having folding legs on your poker table means your game becomes mobile. Whether that means transporting the table from storage to the the playing floor or from your home to a friend's home, having folding legs allows you to easily move your game as you please. Sure it's still 8 feet long but at least its flat for convenient storage. If you're fortunate enough to have an empty room in your home, don't mind everyone coming to your house to play and cleaning up after them, then you have the luxury of choosing a furniture style table to showcase in your home. Furniture style tables are meant to be setup once, played on 24/7 and last you a lifetime. You won't be moving this type of table into storage because some of these monsters weigh quite a bit, plus you'll want this showpiece on display at all times.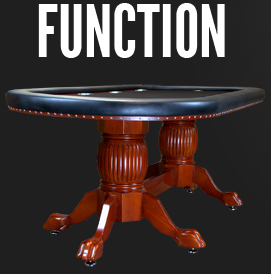 Materials
There are a few key differences in the construction of folding leg table versus a furniture poker table. As mentioned in the function section, folding leg poker tables are designed to be mobile. The number one concern for a table that will be constantly moved around is the weight. Most folding leg tables will be crafted from a base board of MDF which is a dense plywood. The benefits of using MDF in a folding leg poker table are the weight and cost savings compared using solid wood. The weight and cost factors do come with a slight warning and that is table stability. You definitely want to play on something sturdy that won't bend and bow under pressure. So the key feature you want on any folding leg poker table is a metal support frame. But for a furniture style poker table that is going to be on display, you want the top of the line materials. The weight savings is not as much of a factor now that you know this is going to be a one time assembly and permanent fixture. So solid wood is the common material of choice as it provides excellent stability and exudes a luxurious finish and feel.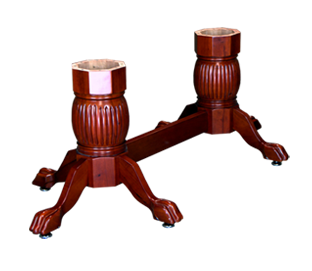 Price
Stemming from the previous materials section, each table style generally ends up being on two different ends of the price spectrum. Since the folding leg tables don't use solid wood or require intricate wood work, they are able to be priced more affordable for most consumers. If budget is your main concern, this is where you want to be looking. There is great value to be had from a folding leg poker table as it'll get the job done and you have the versatility to store or move it as needed. On the flip side, furniture style poker tables using solid woods and detailed pedestal legs is of course going to come with a price. But with the high price, you not only get a vehicle for your poker games, but a quality piece of furniture. You can rest assured it will last a lifetime and is usually more easily serviceable, upgradeable and customizable than folding leg tables. So if your bank roll allows it, a furniture style table is a wise investment for the avid poker player.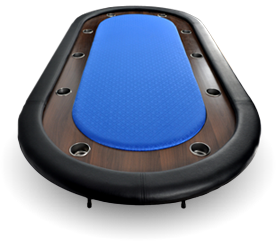 Options & Add-Ons
A high quality poker table should be customizable and offer the owner the ability to add his/her own style . Starting at the bottom, there are numerous pedestal leg styles and sizes to choose from whether you want a traditional claw leg, a modern locking cabinet base, or perhaps industrial looking metal column legs. Having choices allows you to best fit your new table in with your current room color scheme and design. Since furniture style tables are permanent pieces, not all people may have a dedicated game room to spare in their home. One solution to this dilemma is the dining/conference top. Many customers opt for a solid wood matching dining top to turn their full size poker table into a dining table when not in use. Another option to consider when planning out a complete furniture poker table setup is matching chairs. While matching chairs are not critical, it does add the final . If using a dining top, you'll be interested in taking a look at some matching dining chairs that fit right in with the most elegant dining rooms.